"If momma ain't happy, nobody's happy."
Our motto got us to where we are today. We currently have 89 seasonal sites, 56 water/electric camp sites, 13 tent sites, and 3 Amish-built cabins. Harvest Farm Campground Resort continues to grow and cater to individuals and families who dig camping in style but out in the country. Located high on the bluffs of the Upper Iowa River, the campground is virtually bug-free by design. We take pride in our 54 acres of meticulously manicured lawns, ceramic tile shower houses, full convenience store, and our 5-star staff. There's truly an amazing escape for every camper. It all started…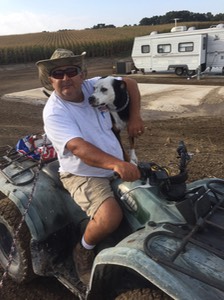 Dave began to transform the family dairy farm into a family campground. The Ferrie family had been camping for many years. So Dave, Campground Manager Extraordinaire, was determined to add all the things they loved about other campgrounds they visited, and nothing they didn't. That's why:
-You won't see signs full of rules cluttering up the scenery.
-You won't get charged extra for people, visitors, hot showers, or pets.
-You check in when you get here and pay when you leave.
-You're on the honor system and you're only expected to camp... honorably.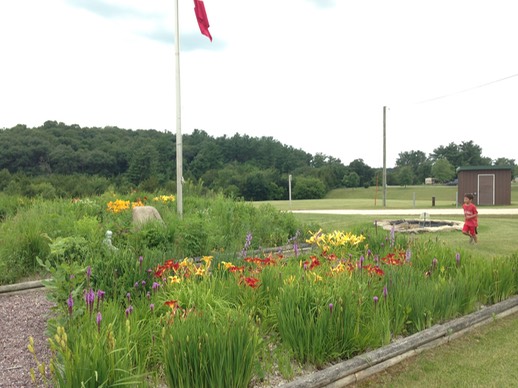 Harvest Farm Campground, located on the most scenic acres bordering the Upper Iowa River, opened for camping and canoeing with a shower house, 56 water/electric sites, 9 tent sites, and 10 canoes. Since the campground was created by and for those who enjoy the peace and quiet of being in the country away from city lights and sounds, campers will experience a mixture of stately 100+ year-old Eastern White pine trees, magnificently aged Oaks, and newly planted young trees—surrounded by 93 acres of manicured lawns, rustic woods, and rolling farmland. Together with wild flower plots sprinkled throughout the campground that attract a wide variety of songbirds, it makes for a truly relaxing environment.
Combine all that with our strategically placed bat houses and swallows on the bluffs, and you get a campground virtually mosquito-free… by design.
We're grateful for everyone who shared the vision and helped bring it to life.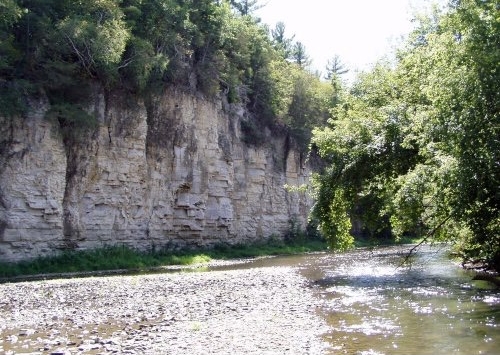 We added a section of 25 seasonal sites and two log cabins built by local Amish craftsmen. In anticipation for lots of good shade for those hot sunny summer days, we planted 100 baby trees in our nursery (ahhhhh, didn't know we had a nursery, did ya?). It's in the Northeast corner of the campground. This section also includes a small warehouse, compost piles, and canoe/kayak storage. Dave has a place for everything and every thing must go in its place. We're grateful for lots of beautiful space to work with.
Another section of seasonal sites was designed and added. This section included 28 sites-10 of which border the bluffs of the Upper Iowa River; these are premium sites. We also added another log cabin. This one's a two-story loft, perfect for families and larger groups. Along with the additional camping accommodations we added another porcelain ceramic-tiled shower house, designed a little differently than the first. Five family-size showers line the front of the building, while two large restrooms snuggle up on both sides. We're grateful to be able to accommodate and serve more campers.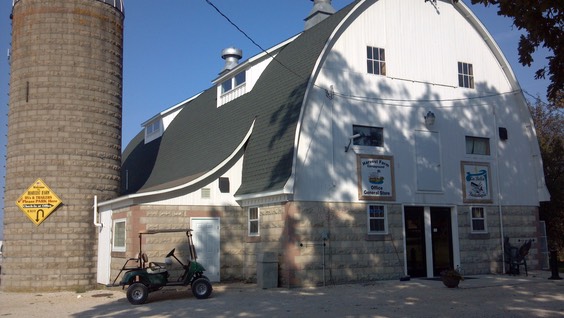 Walking patiently and productively toward his 10 year plan, Dave finally moved the Office from his man-cave (we call it a shop, now) into the dairy barn… but not before we transformed it into a full Convenience store. The barn also includes a unisex Beauty Salon and an indoor Rec room. Upon Woodall's recommendation in their 4-StarR review of our Campground that year (they actually use Ws, not stars, so: 4-Ws ha ha) we appended the word "Resort" to our official title. It more accurately conveys the robust amenities and full services available at Harvest Farm. We're grateful for continued progress at the campground.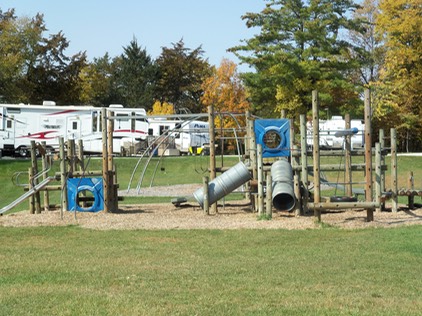 Finally, after a long time coming… we completed a second playground on the campground and enhanced the existing playground with gliding horses. Both areas are a big hit for kids of all ages! We're grateful to hear all the laughter and joy of children playing there.
Seeing the need for more afternoon shade as campers relaxed from a full day of activities and prepared for an evening of chillin' and grillin' around the campfire, we transplanted trees from our nursery (see 2005) to various sites around the campground. We also grabbed a few of our favorite Ash trees from our surrounding wooded areas to fill in around the edges. We're grateful for the opportunity to be good stewards of the community by recycling and re-purposing whenever we can.
Almost right on target with Dave's 15-year development vision (had to make adjustments for some unexpected upgrades last year, like new lawn mowers, computer software, and river toys), we added another section of seasonal camp sites. We extended the landing road south into the cornfield and built 36 beautiful, extra large, individually unique sites--up and down the ridge.
Each site is original with a view that takes your breath away. These new sites are Premium sites. Now we have 89 total seasonal sites. We're so grateful for all of our new seasonal families.
We rolled out an online reservation system. YAY! Now you can make reservations online. We also planted shade trees and nurtured new lawns in the new seasonal section. And, after many many years of faithful service, we retired our two gray, dusty, windowless, airless… but dedicated & hearty shuttle vans, and acquired two white, dust-free, window-full, air-conditioned beauties that are working happily ever after on our familiar shuttle routes up-river. Grateful for the opportunity to serve our river adventurers more comfortably. We're extremely grateful for our joyful, hard-working, dedicated, amazing staff.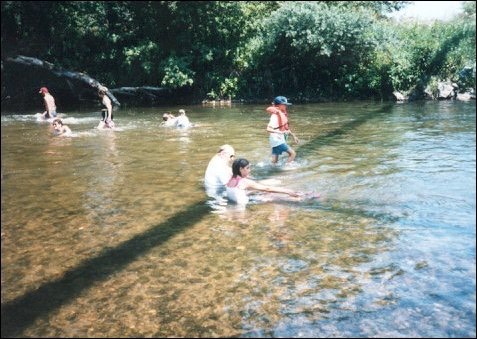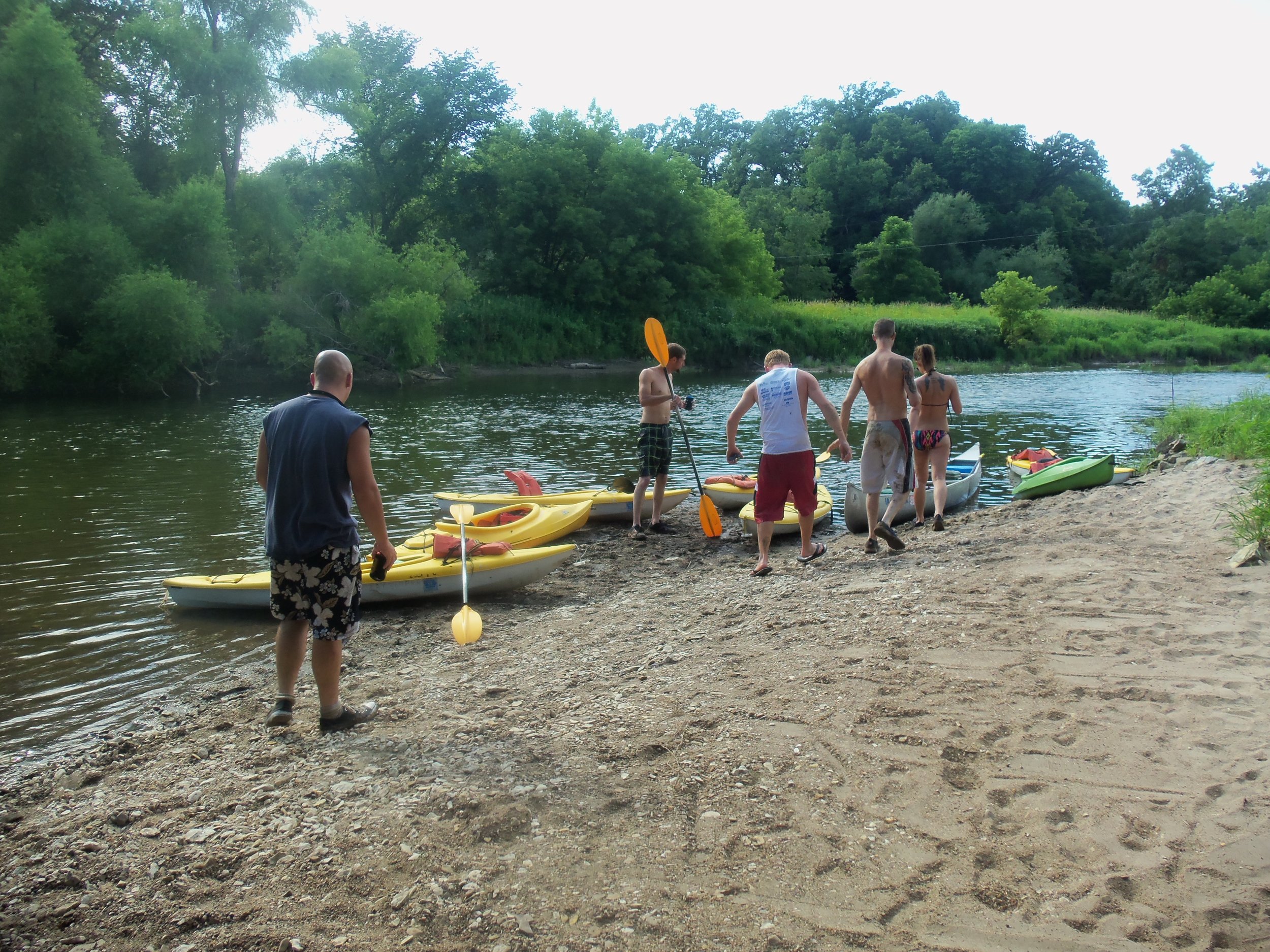 Lastly, a word about the river that we have the honor and pleasure to play in everyday--up close & personal: The Upper Iowa River is a relatively short river, canoeable for about 110 miles. It starts in southeastern Minnesota and meanders through Howard, Winneshiek, and Allamakee counties in Northeastern Iowa before it empties into the mighty Mississippi at New Albin, Iowa.
The Upper Iowa river is unique in that it is one of only two clear water rivers in Iowa. It is mostly fed by cold water springs which supports a lot of excellent fishing. Anglers have good luck catching walleye, rock bass, small mouth bass, rainbow and brown trout. It's Iowa's only river eligible for designation as a national Wild and Scenic River. National Geographic's Adventure Magazine ranked canoeing the Upper Iowa River as one of 100 not-to-miss outdoor adventures in the United States.
We suggest you wear water shoes, as the river bed consists of gravel, stone chips, and limestone. You can capture the scenic beauty on your waterproof device (or your device in a waterproof pouch), as the river winds through farmland prairies then changes to a river valley with limestone bluffs. Wildlife is abundant with white tail deer, wild turkeys, and bald eagles as the main attraction. But you'll also see mink, flat-back turtles, beavers, otters, and the like… and every so often a cow or two from a neighborhood ranch gettin' a drink of water and cooling off.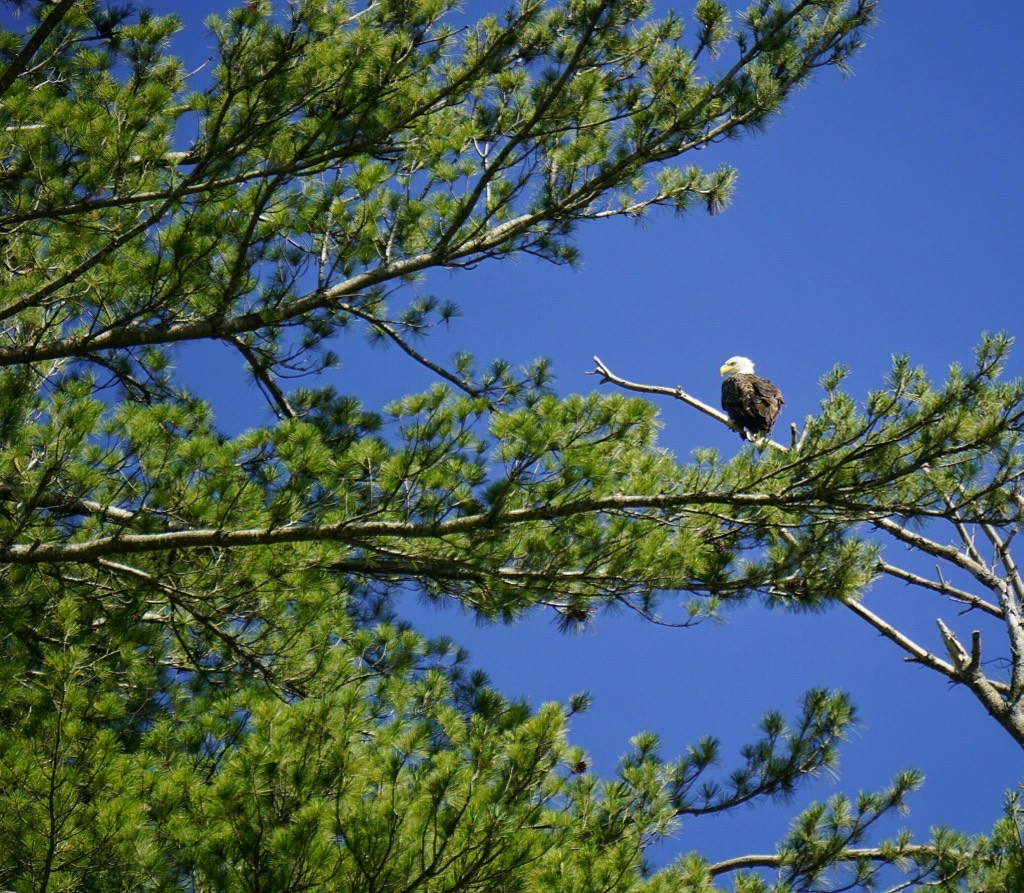 We're excited about our campground and can't wait to share it with you on your next camping adventure. It's truly an amazing experience you don't want to miss!
_ David Ferrie, Harvest Farm Campground Manager